72 Hour Film Challenge 2023
Become Almost Famous February 17-20!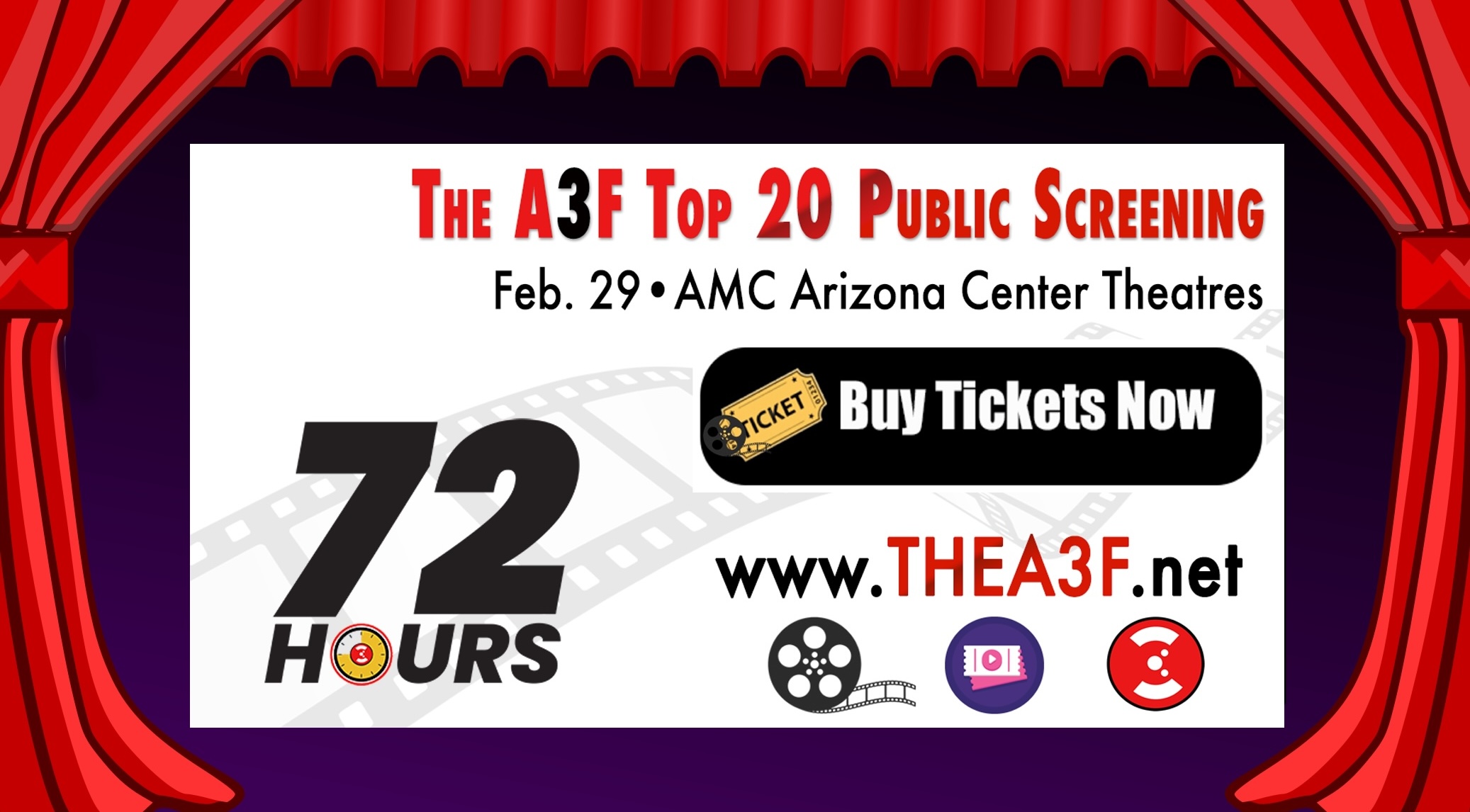 Lights! Camera! Action!! Forty-seven teams of filmmakers from around Arizona, NYC and SoCal created 1-5 minute short films for the 2023 A3F 72 Hour Short Film Challenge!
TOP 20 PUBLIC SCREENING
We will screen the Top 20 films on Thursday, March 2 at AMC Arizona Center Theatres (565 N 3rd St, Phoenix, AZ 85004) from 7-9p.m. with our Awards Ceremony following the presentation of the films. Our Will Call table is located inside the theatre lobby and opens at 5p.m. *Four hours of free parking in garage on northeast side. **No refunds on tickets.

**Online ticket ordering is now closed. Tickets will be available for $11 each at our Will Call table in the lobby of AMC Theatres starting at 5p.m.
HOW DOES IT WORK?
On Friday, Feb. 17, we announced the Official Guidelines for the 72 Hour Challenge at our Kick-Off Party and on our social media pages. Teams now have 3 days or 72 hours to make a 1-5 minute film. Teams that beat the 72 hour deadline will have their films watched and scored by our Judges Panel and the Top 20 films will play at our legendary Public Screening on March 2 at AMC Arizona Center 24 Theatres.
GUIDELINES
Theme: a Perfect Opportunity
Prop: a Paper Clip
Line of Dialogue: "Always remember this moment."
RULES
Films must be 1-5 minutes long (including credits).
All footage must be shot within the 72 hour time period (locations can be scouted beforehand, animators are allowed to pre-sketch templates/characters).
Filmmakers should secure permission for all locations and any music/songs used within their films.
Adult content such as language, violence and sexual situations is allowed, however, make sure it fits your storyline and enhances your film.
Cast and crew must promise to have fun and become Almost Famous!
JUDGES PANEL
Jason Francois - As Assistant A3F Director, Jason brings a wealth of film knowledge and experience to the panel. Jason excels in script-writing, directing and has a technical expertise on a movie set that has translated into several award-winning short films and a feature currently on Netflix.
Laurie Love - Producer, Actress, Stuntwoman and Owner of Skibavision, a LA based production company. Some of Laurie's most recent and notable films are  "Pursuit" starring Emile Hirsch,  Jake Manley, and John Cusac and "The 2nd" starring Ryan Phillippe, Jack Griffo and Casper Van Dien.
Sean Dillingham - Appearing in over 150+ commercials and 70+ films and 25 national television series, Sean is truly an inspiration and success story of a valley actor making it big in Hollywood. Sean can currently be seen on Netflix in Falling For Christmas.
Laura Durant - For more than two decades, Laura has been the most trusted 'go to' resource for actors and producers in Phoenix, AZ The AriZoni Awards honored Laura with a Distinguished Service Award for her efforts in keeping the Valley theater community connected, and she has been nominated as Arts Advocate of the Year by the Arts and Business Council of Greater Phoenix.
Jae Staats - Founded the A3F in 2005 to bring a high-quality and filmmaker-inspired festival to the valley. Jae also runs BallBoy Productions, a local video production company and has collaborated on several award-winning short films and national commercials.